To complete our spring meal that included burrata and pea crostini and Mediterranean short ribs with polenta, I decided on a Victoria Sponge Cake with Blackberries and Lavender Cream. This was of course an homage to The Great British Baking Show, but I added an Australian twist! More on that in a bit.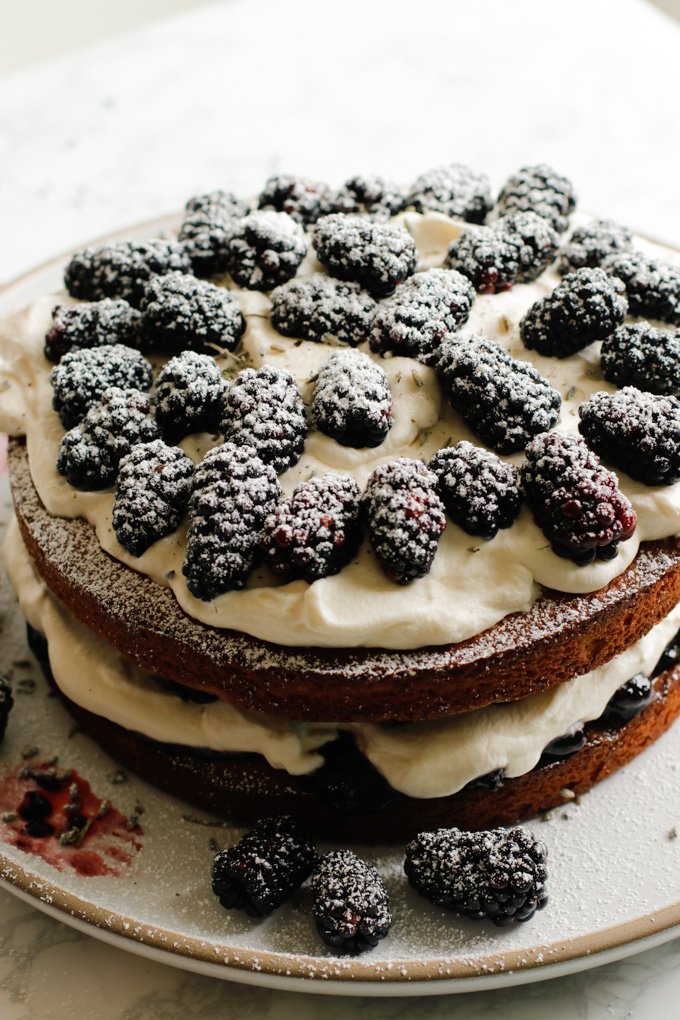 Victoria sponge cakes are pretty forgiving for the most part but you do have to watch out for the dreaded "soggy bottom," which will occur if you don't cook the cake all the way through. And while you want to make sure the cake is cooked through, you also don't want to dry it out. The oven I used tends to run hot and so I cooked my cakes for 25 minutes and that was perfect. Alter the time for your cakes according to your oven's temperament.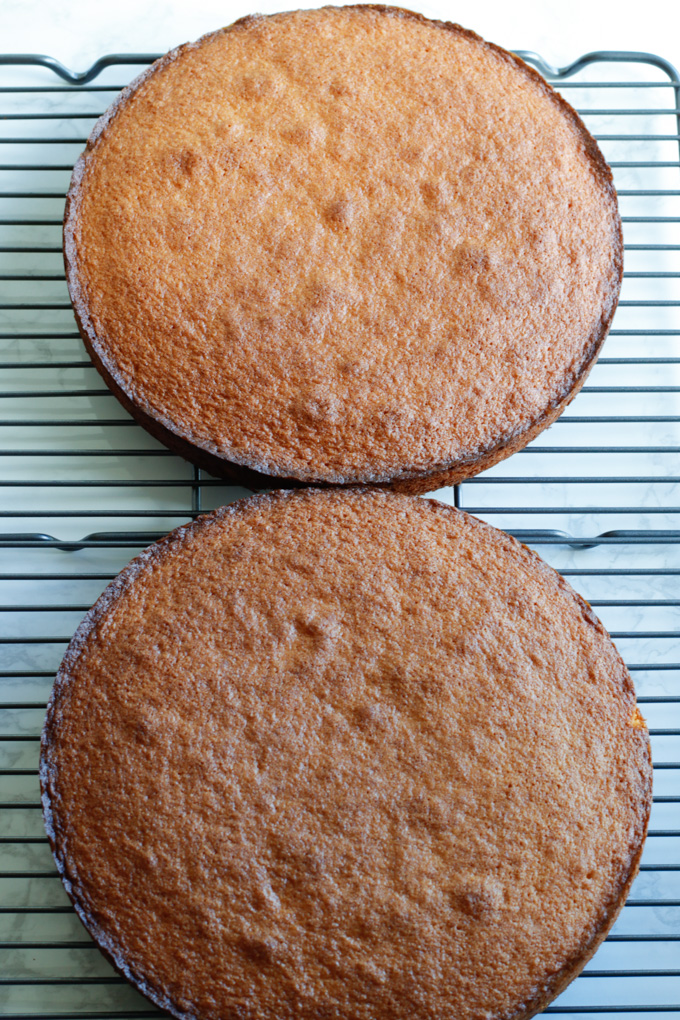 Now for the cream! It was inspired by a recipe I found in Donna Hay's At My Table, one of the first cookbooks I bought when I first started getting into cooking. I have to admit that it was the photography that grabbed me. The photos were all taken as Polaroid transfers by the amazing photographer, Quentin Bacon. The photos give the book the most ethereal feeling. I never get tired of looking through it!
Donna adds lavender flowers to her cream, which give a subtle floral element to the cream without being overwhelming in the least. I would definitely add lavender again!
Donna also loads her sponge cake with raspberries in the middle and on top — which is a bit heretical for British Victoria Sponge.  You know me, more is more, so I followed Donna's lead and loaded my cake with blackberries — which are so good right now.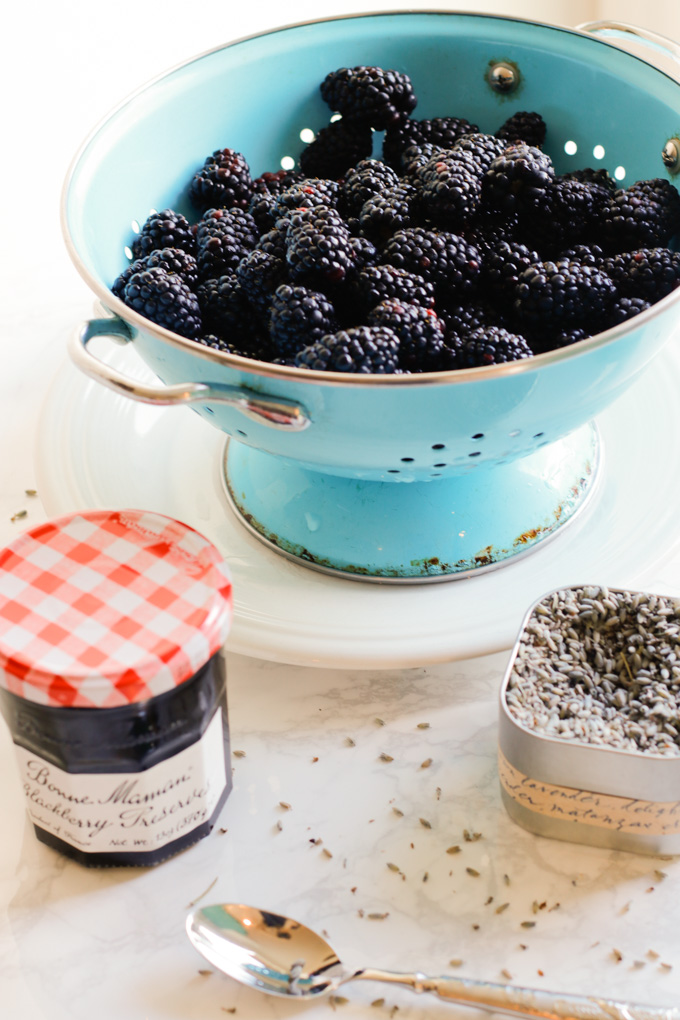 Considering that all of us had two slices and my friend's young son, Oscar, had three, I would declare this cake a smashing success!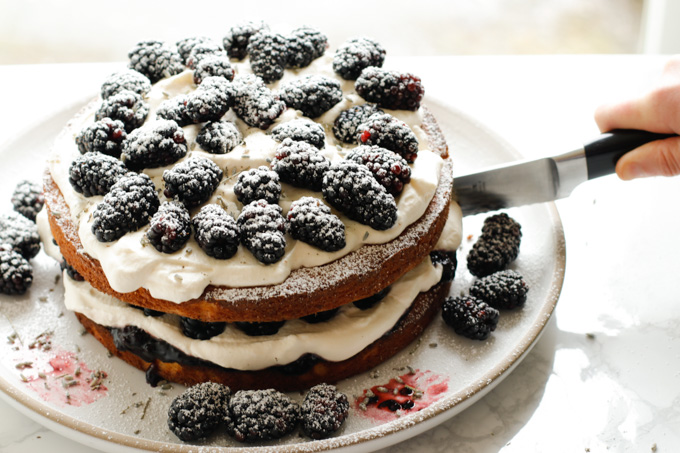 Make this cake while blackberries are at their best and watch it disappear!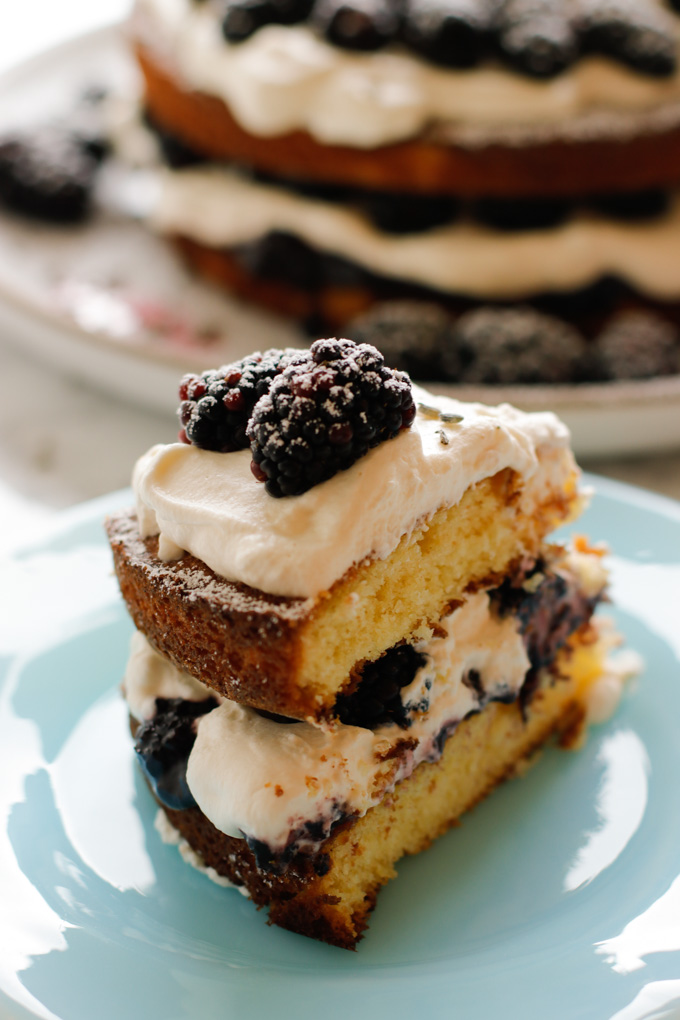 Print
Victoria Sponge Cake with Blackberries and Lavender Cream
12

tablespoons/170 grams unsalted butter (1 1/2 sticks), softened, more for greasing pan

1 ⅓

cups/166 grams all-purpose flour

3 ¼

teaspoons baking powder

½

teaspoon kosher salt

¾

cups plus 2 tablespoons/175 grams granulated sugar

3

large eggs, at room temperature

2

tablespoons whole milk

½

cup/120 milliliters blackberry jam, more to taste

1

cup/240 milliliters heavy cream

1

tablespoon confectioners' sugar, more for dusting

1/2

Lavender flowers

¼

teaspoon vanilla extract
Instructions
For the cake:
Heat oven to 350 degrees and place a rack in the center. Grease and line the bottoms of two 8-inch round cake pans with parchment paper.
In a medium bowl, whisk together flour, baking powder and salt.
In the bowl of an electric mixer, beat butter and sugar until light and fluffy, about 3 minutes. Beat in eggs, one at a time, until incorporated, then beat in milk, scraping down sides of the bowl as necessary. Mix in flour mixture until combined, then scrape into prepared cake pans, smoothing the top.
Bake cakes until golden brown and springy, and a toothpick inserted in the center comes out clean, 25 to 30 minutes. Let cool for 10 minutes, then unmold them onto a wire rack to cool completely, flat side down.
Transfer one cake (the less attractive one) to a serving platter, and spread jam evenly on top. In the bowl of an electric mixer, whip cream, confectioners' sugar and vanilla just until it holds stiff peaks. Dollop about half the cream on top of jam, then top with remaining cake. Dust with confectioners' sugar and serve immediately, with the extra whipped cream on the side.