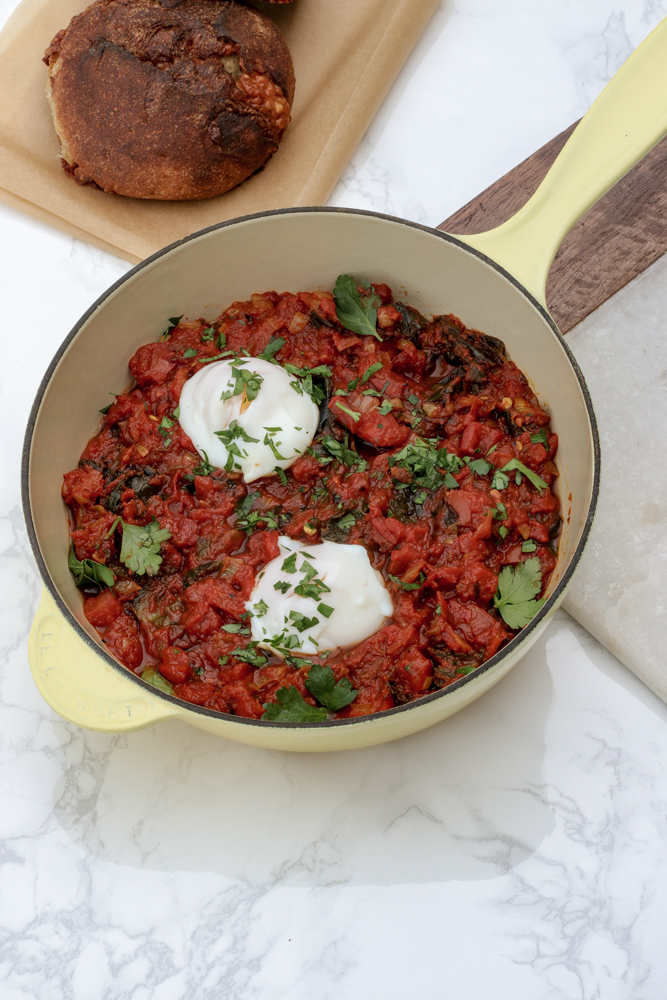 Surprise, surprise, we love brunch. We have a million great brunch options in the San Francisco Bay Area and we love to take advantage – especially when we have guests. But lately, we've really been enjoying making brunch at home considering that we can prepare a lot of the meal well in advance. Our brunch menu may look super ambitious but in reality, with a little planning there's very little for you to do the day of. So our menu was Tex-Mex Shakshuka with sous-vide eggs and homemade Labneh.
I have to admit I was hesitant to include a shakshuka recipe since it totally feels like we've hit peak shakshuka. But here's the thing – I've eaten shakshuka all of my life. It was, and still is, a mainstay for breakfast and even makes dinner appearances. Thanks to the power of the Internet, shakshuka is now a global phenomena and I love that people from all over the world have embraced it as a staple.
I make traditional shakshuka recipes but we've decided to mix it up today and pay homage to my better-half's Texas roots. If you know anything about Texans you know that the people of the Lone Star state hold two peppers above all others — the mighty jalapeño and the smoky poblano. Because I wanted a little smokiness in my shakshuka, the hubby suggested we use roasted poblanos to add a kick. The poblanos gave the shakshuka a great smoky flavor and will definitely be made again.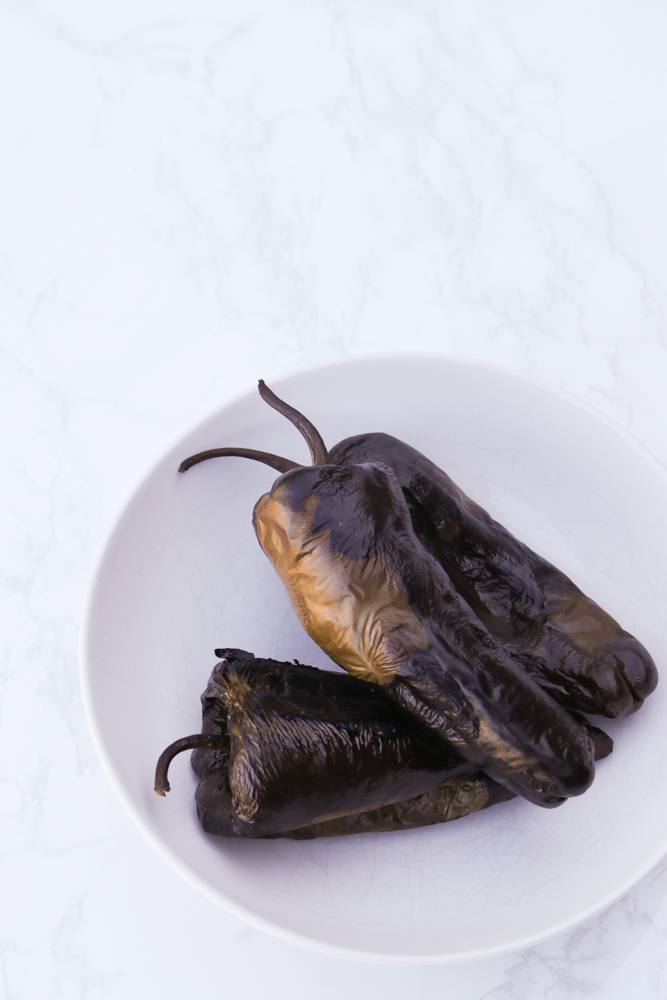 I like to make my shakshuka sauce in advance of serving it for flavor and convenience. The sauce only gets better with time, so I recommend making it a couple of days before serving it. Or if you're super organized, you can even make it a couple of weeks in advance and just freeze the sauce until the night before you need it. At that time put it in the fridge to thaw.
PRO TIP: I often make a double batch of the sauce when I'm making it and throw it in the freezer for another time.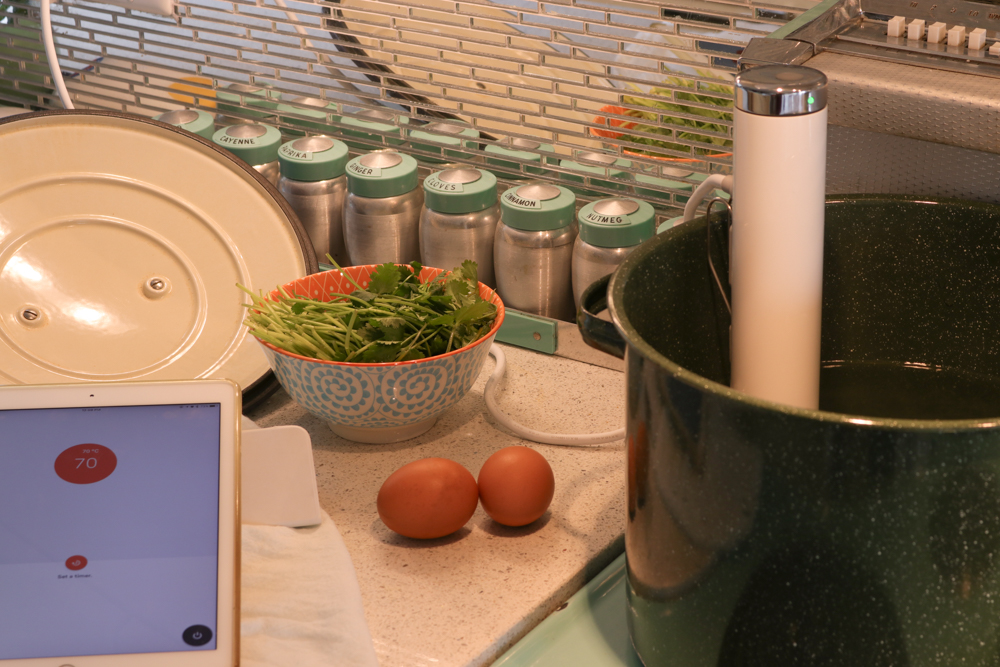 The Eggs!
Now you may be asking, why sous vide the eggs? Well other than an excuse to pull out our newest cooking toy, we are SUPER picky about the consistency of our eggs and can't stand overcooked eggs. By using sous vide to cook the eggs gives us the control we want with deciding exactly the consistency we are after. It also gives us the convenience of having all of our eggs turn out perfectly. We use Joule by ChefSteps, a sleek sous vide device that's as beautiful as it is functional. We also used the ChefSteps Egg Calculator to figure out the temperature and time to cook our eggs to achieve our desired consistency — a little nerdy but the results are so worth it. Using precise cooking methods like sous vide also helps us get food on the table at the desired time.
Labneh
I love serving my shakshuka with tangy labneh – a creamy yogurt cheese that is a great accompaniment to any egg dish. It also holds its own solo served with olive oil and warm bread.  Labneh is super easy to make and I like making mine with the tangiest Greek yogurt I can find. My favorite is Strauss but you can use whatever you have available. The better quality the yogurt, the better your labneh will be. The other great thing about labneh is that you can also make it ahead and take all of 10 minutes of effort — tops.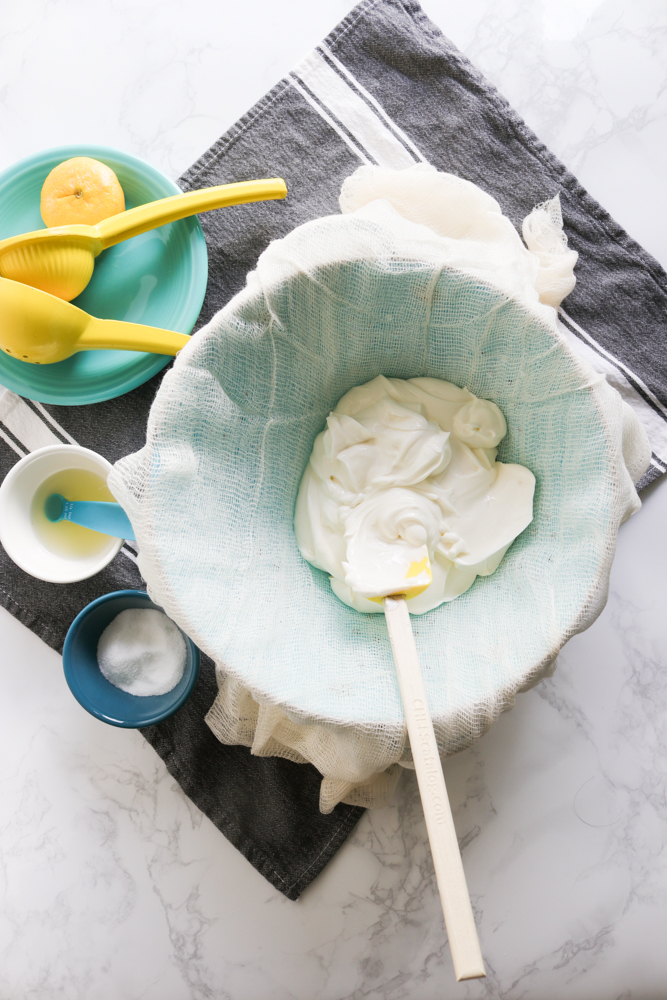 Finally, I like to serve this meal with warm sourdough bread. There's nothing like a yummy piece of sourdough to sop up the shakshuka sauce and dig into the labnah.
Shakshuka, anyone?
Print
Tex-Mex Shakshuka with Sous Side Eggs and Labneh
Pulling off a stress-free yet delicious brunch for friends is easy with these two recipes that can be made well-ahead of your brunch.
Author:
Prep Time:

15

Cook Time:

30

Total Time:

45 minutes

Yield:

6

1

x
Category:

Breakfast

Cuisine:

Mediterranean
For the HomeMade Labneh (make this first, at least 24 hours ahead)
32 oz

Greek Yogurt (I used Stauss)
a pint of salt

1

t fresh lemon juice

5

T good extra-virgin olive oil (to serve)
For the Shaksuka sauce (make up to 3-days ahead)
1/4

C Extra-virgin olive oil

1/2

t cumin seeds

1

onion, diced

2

poblano peppers, diced

1

t turmeric

1/2

t ground cumin

1/2

smoked paprika

1/2

t Aleppo peppers
Salt, to taste
Pepper, to taste

1

14 oz can pureed tomatoes

1

28 oz can crushed tomatoes

6

eggs

1/4

C Cilantro
For the eggs: (make right before serving)
Instructions
Labneh: 
Line a fine strainer with a few layers of cheesecloth and set over a bowl.
In another bowl, combine yogurt, salt, and lemon juice. Stir to incorporate.
Spoon the yogurt mixture into the cheesecloth-lined strainer and fold layers of cheesecloth over the yogurt to cover completely.
Transfer yogurt (and strainer and bowl) to the refrigerator for 12-24 hours. The longer you strain it, the thicker it will be. I usually do it for about 24-hours.
Remove strained labneh from the fridge, unfold cheesecloth, and transfer labneh to a serving bowl. Use the back of a cake spatula to make a swirly pattern like icing.
Drizzle the oil over the labneh. Serve cold to accompany your shakshuka.
Shakshuka sauce:
Heat oil in a 12-inch skillet over medium-high heat. Add the cumin seeds and saute for 30 seconds.
Add poblano chiles and onions and cook, stirring occasionally, until soft and golden brown, about 10 minutes.
Add turmeric, cumin, paprika, and Aleppo pepper and cook, stirring frequently for about 1 minute.
Put tomatoes and their liquid into a medium bowl and crush with your hands. Add the tomato puree and crushed tomatoes and their liquid to skillet along with 1/2 cup water, reduce heat to medium, and simmer, stirring occasionally, until thickened slightly, about 15 minutes. Season sauce with salt.
Crack eggs over sauce so that eggs are evenly distributed across sauce's surface. Cover skillet and cook until yolks are just set, about 5 minutes. Using a spoon, baste the whites of the eggs with tomato mixture, being careful not to disturb the yolk. Sprinkle shakshuka with cilantro and serve with labneh and warm crusty bread, for sopping up the yummy sauce and dipping into the labneh.
For the eggs:
Get your sous-vide machine and heat up a pot of water to 70 degrees C.
Place your eggs in the sous-vide bath and cook for 15 minutes for a runny yolk.
Remove the eggs from the water and allow to cool for a minute.
Peel the widest point of the egg and the whole egg should slide right out.