As summer draws to a close, I decided to squeeze in one more strawberry tart. This recipe has become a favorite because the combo of strawberries and pistachio is pure perfection. I'm totally obsessed with the pistachio frangipane in this tart — which I'm testing in some other recipes that I'll debut soon.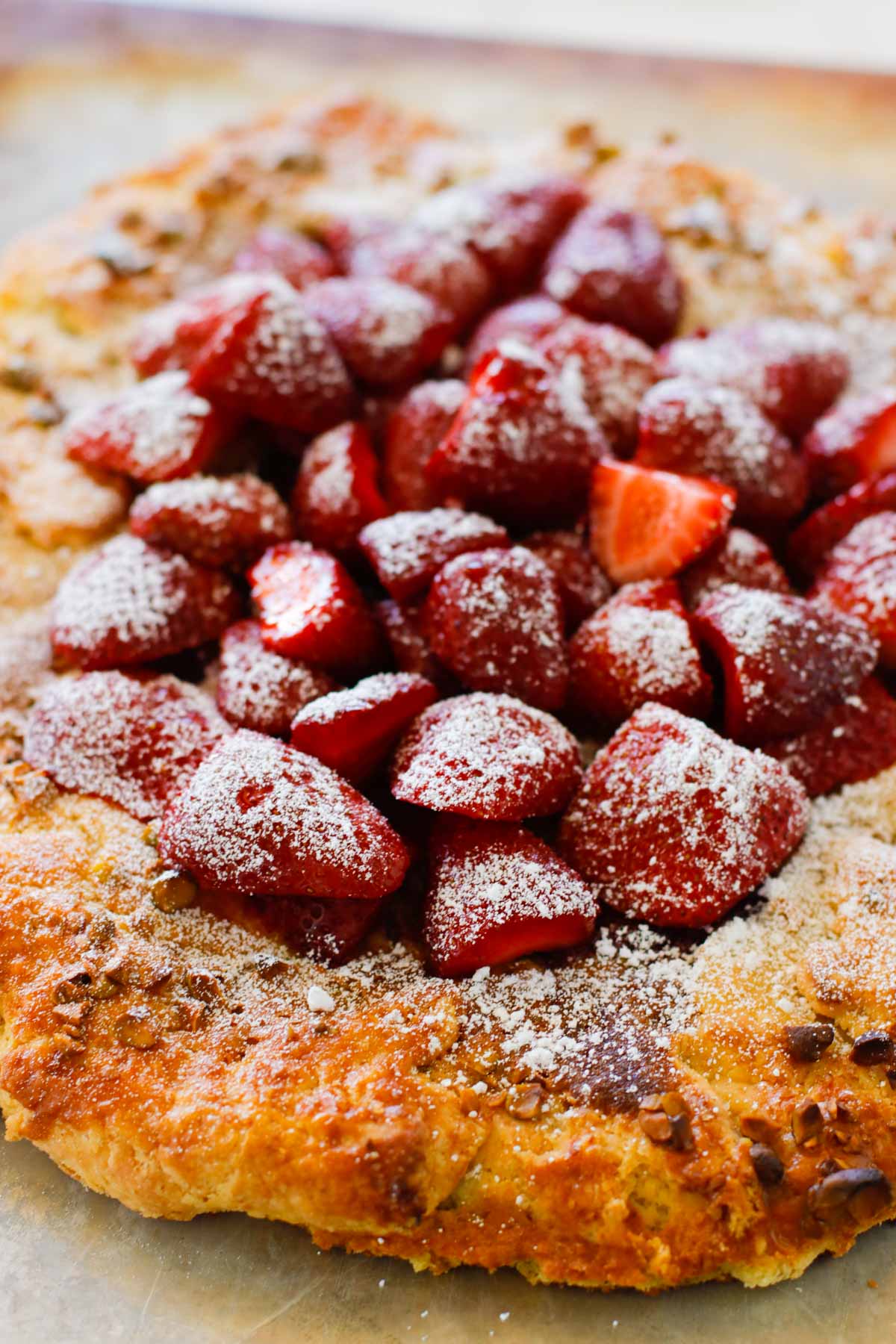 The frangipane in this recipe is not the only standout in this recipe. The crust is also very unique thanks to a surprising ingredient — cream cheese. The cream cheese give it a nice tang and heft.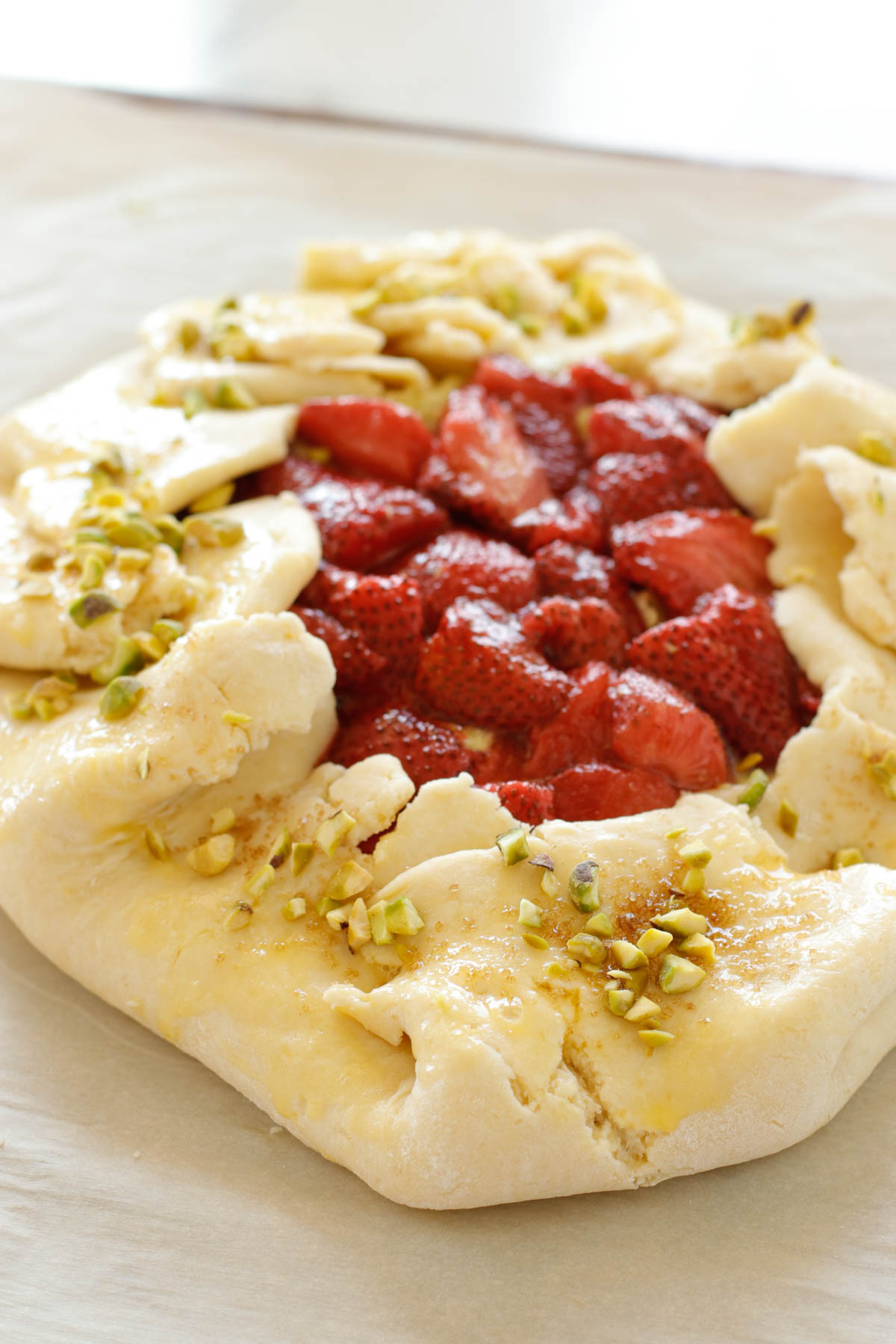 This recipe is adapted from the brilliant Mellisa Clark of the New York Times — who is a favorite source of inspiration. As you know from some of my previous recipes, I love her no nonsense and no fuss style of cooking that is also really delicious!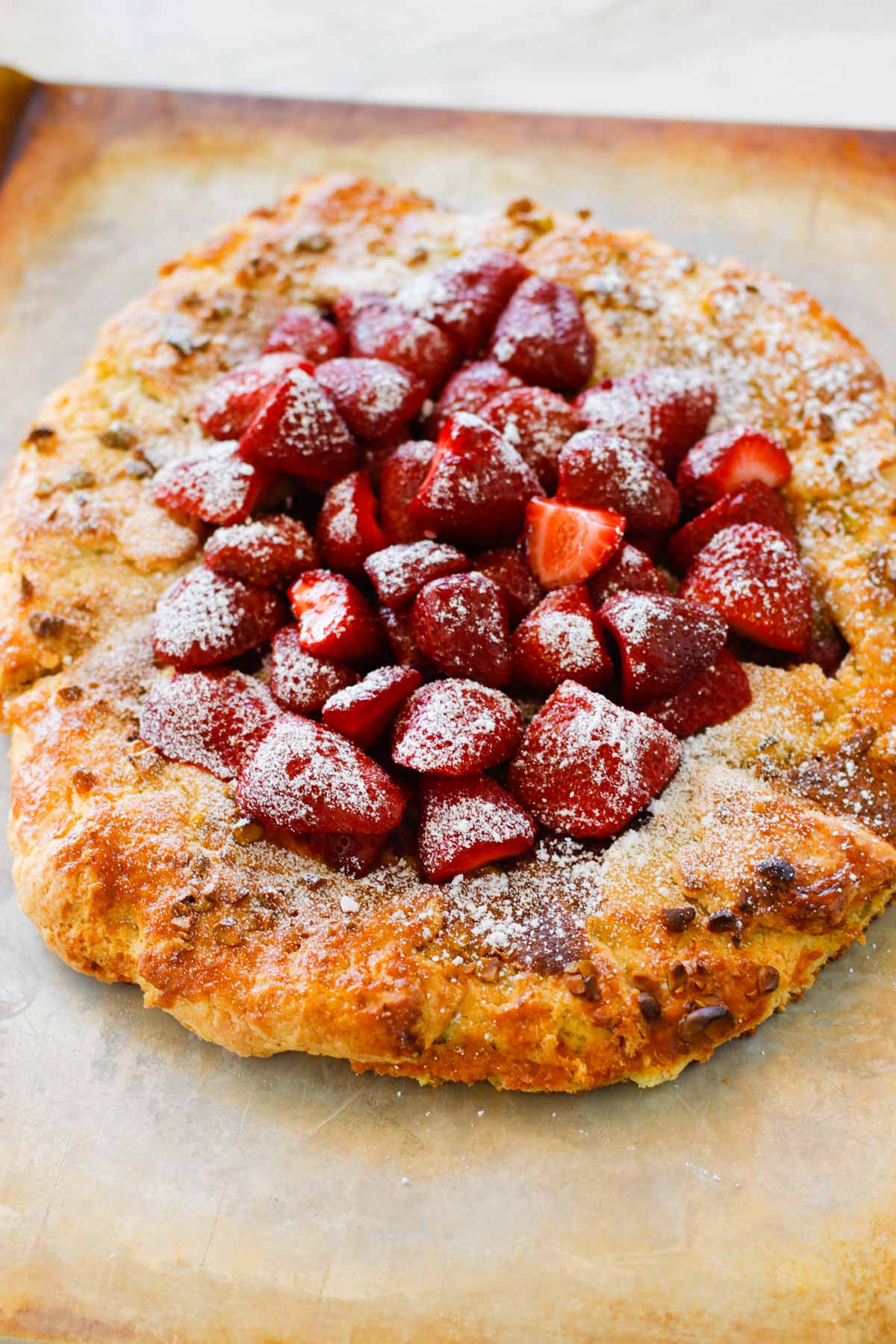 Print
Strawberry Pistachio Tart
Adapted from the New York Times.
FOR THE CRUST:
2 ¼

 

cups / 280 grams all-purpose flour, plus more for rolling the dough

1

 

teaspoon kosher salt

1

 

tablespoon granulated sugar

1

 

cup / 226 grams unsalted butter (2 sticks), very cold, cut in 1-inch pieces

4

 

ounces/113 grams cream cheese, very cold, cut in 1-inch pieces

1

 

teaspoon lemon juice

3

to

4

 

tablespoons/45 to 60 milliliters ice water
FOR THE STRAWBERRY COMPOTE AND FRANGIPANE:
1

 

pound/454 grams strawberries, hulled and halved

½

 

teaspoon lemon juice, plus 1/2 teaspoon lemon zest

½

 

cup/100 grams plus 1 to 2 tablespoons granulated sugar

¾

 

cup/100 grams shelled raw pistachios, plus 2 tablespoons chopped raw pistachios

½

 

cup/113 grams unsalted butter (1 stick), softened

3

 

large eggs

¼

 

teaspoon almond extract 

 

Turbinado or Demerara sugar, as needed

 

Powdered sugar, for serving
Instructions
Make the dough: In a food processor, pulse to combine flour, salt and sugar.
Add butter and cream cheese and pulse until they form small pebbles.
Drizzle in lemon juice and 3 tablespoons ice water, then pulse just until dough comes together, adding another tablespoon of water if the dough looks dry.
Pat into a disc, wrap in plastic, and chill at least 1 hour and up to 3 days.
Make the strawberry compote: Combine approximately 2/3 of the strawberries in a small pot with the lemon juice and 1 to 2 tablespoons granulated sugar to taste, depending on sweetness of the berries.
Cook over medium heat until strawberries start to break down and juices are thick and syrupy, about 12 minutes. Let cool. Compote can be made up to 5 days ahead and stored in the refrigerator.
Make the frangipane: In a food processor, process 3/4 cups shelled raw pistachios and remaining 1/2 cup sugar until finely ground.
Add butter; pulse until combined, then add 2 eggs, the lemon zest and the almond extract and pulse until smooth.
Heat oven to 375 degrees.
Dust a work surface with flour.
Roll out dough to a 16-inch circle (it will be just slightly thicker than 1/8-inch), then transfer to parchment-lined baking sheet.
Leaving a 3-inch border around the edges, spread the frangipane filling evenly over dough.
Using a slotted spoon, dollop strawberry compote over frangipane, spreading any syrup gently so the compote and frangipane remain in separate layers, then fold dough edges up over the filling. About 6 to 8 inches of the filling should be exposed.
In a small bowl, whisk remaining egg with 1 tablespoon cold water, then brush over the dough.
Sprinkle with turbinado sugar and chopped pistachios.
Bake until edges are nice and golden, 40 to 50 minutes.
Transfer to a wire rack and cool completely.
To serve, top with remaining halved strawberries and dust with powdered sugar.