I love, love, love mussels. They're so easy to make and inexpensive yet feel so indulgen. They're a great addition to our Spanish tapas menu. This recipe combines saffron and tomatoes, making for a scrummy broth that you'll want to sop up with lots of good crusty bread.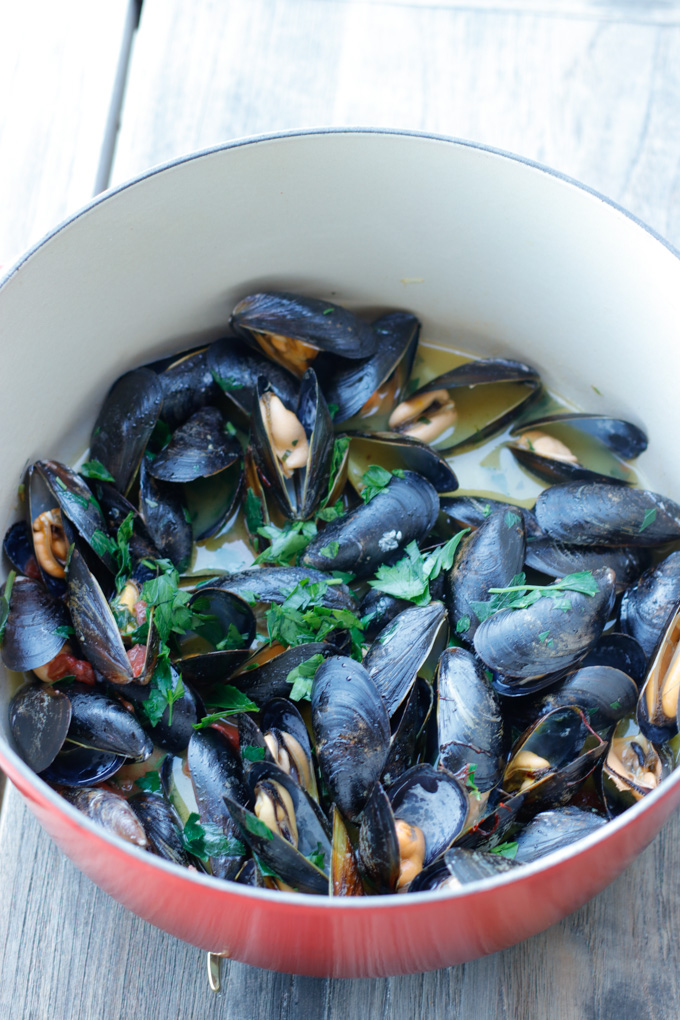 Starting with clean fresh mussels is key. Nothing will ruin this dish faster than sandy mussels, so take the time to make sure they're clean. Here's a great one-minute video on how to clean and prepare mussels from Bart's Fish Tales that I found super helpful.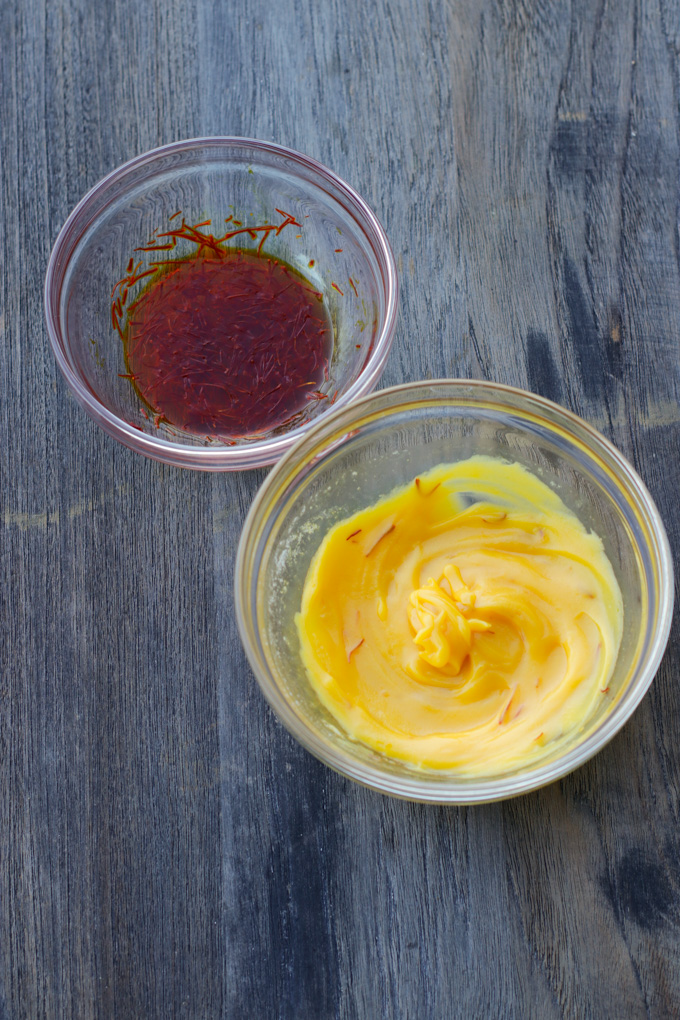 This recipe is inspired by Eric Ripert, one of the kings of seafood and tastes of the Mediterranean. The saffron is the real star of this dish and gives the broth its amazing flavor — there I go again about that broth! When we went to Spain we were surprised at how prevalent saffron is in Spanish cuisine, which really shouldn't have been such a shock considering that we knew that Spain is one of the world's largest exporters of saffron. This recipe calls for first infusing the lemon juice with the saffron and then adding the saffron juice to the butter, which turns the butter an awesome bright yellow. So delicious and so easy – this dish comes together in about 5 minutes once you start the cooking so make sure you have everything prepped before you start fire up your stove. Enjoy!
The mussels complete the savory portion of our Spanish tapas menu, which included: Gazpacho a la Pedro Almodóvar,  Padrón Peppers with Feta and Pan Con Tomate. Now time for a classic Spanish dessert — flan!
Print
Mussels with Saffron and Tomatoes
1 teaspoon

saffron threads

2 tablespoons

fresh lemon juice

4 tablespoons

soft unsalted butter
 Fine sea salt and freshly ground black pepper

4

pounds mussels

3 tablespoons

extra virgin olive oil

1

garlic cloves, sliced

½ cup

peeled, diced tomatoes

½ cup

chicken broth

1

T Champagne vinegar

3 tablespoons

chopped Italian parsley
Crusty bread
Instructions
In a small mixing bowl, steep the saffron in the lemon juice for 5 minutes. Add the softened butter and whisk until fully blended. Season to taste with salt and pepper.
Clean the mussels well. Scrub the mussels well under cold running water, discarding any with broken shells. Remove the beards from the mussels.
Heat the olive oil in a heavy large skillet over medium-high heat.
Add the garlic and sauté until lightly toasted, about 1 minute.
Add the mussels, tomatoes, broth, vinegar and parsley; toss to combine.
Add the saffron butter, cover the skillet and cook the mussels until they all open, about 3 minutes.
Season to taste with salt and pepper.
Serve in bowls with good, crusty bread.