Why, you may be asking, am I still making Mediterranean short ribs in April? Well we're beginning to see spring vegetables all over the farmers' markets here in the Bay Area but we've only gotten fleeting signs of the season when it comes to the weather!  The crazy endless rains continue and it's frigid. I know my East Coast and MidWestern friends are rolling their eyes and muttering "cry me a river," but we're fragile out here in California and can't take too many gloomy days. We need SUN!!!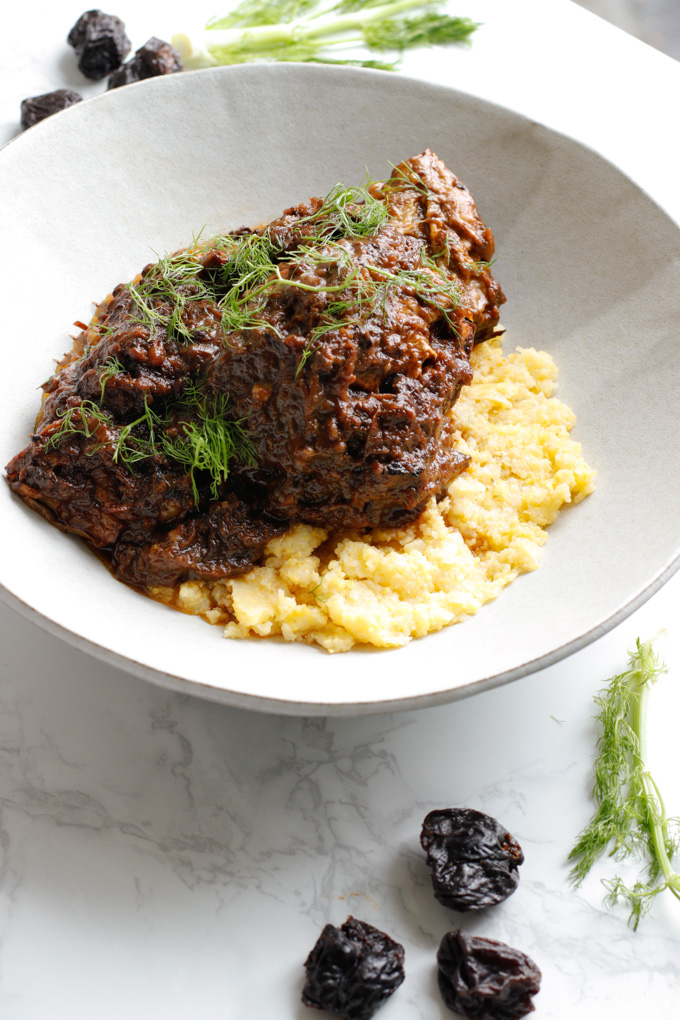 To try and usher in some Spring weather we gathered some friends last weekend and got down to some serious eating to celebrate Spring's bounty!
I decided on a simple menu. I Also chose the short ribs as the main because I can make them a day ahead, freeing me up the day of lunch to enjoy.  Here's the menu we pulled together.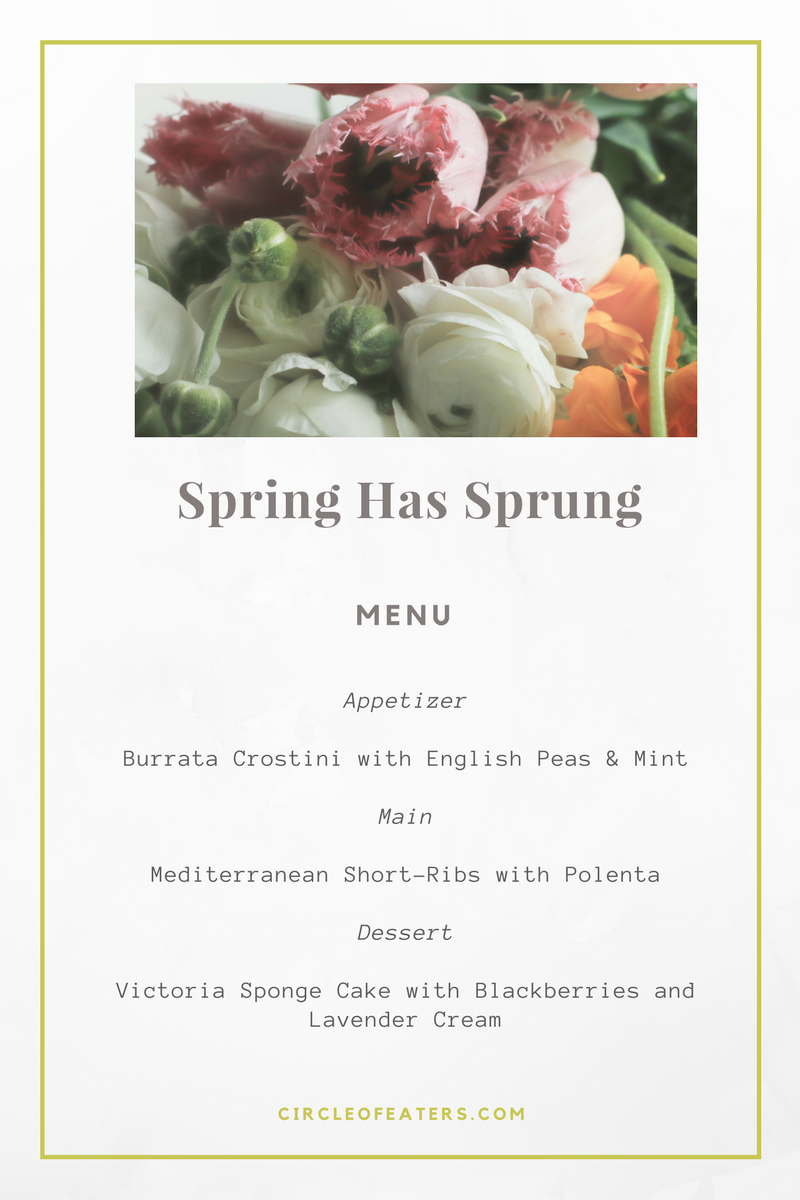 For this menu I did leave both dessert and the polenta for the day of the lunch but the Victoria sponge cake comes together quickly and the polenta recipe I followed was super hands off – my favorite type! Here's the plan I followed.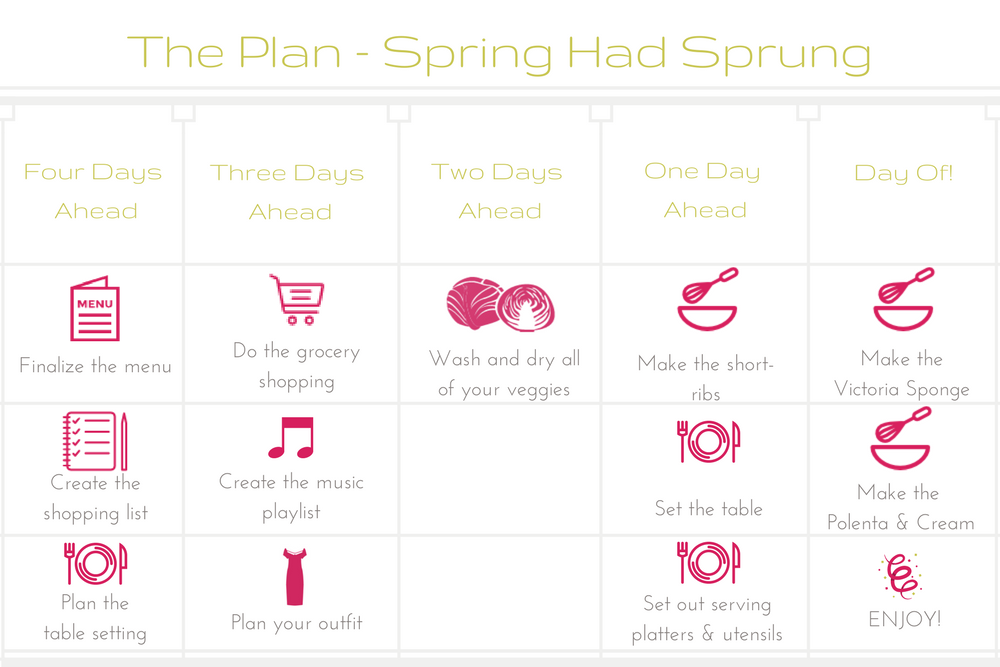 I could have easily made the Victoria sponge the day before but I love greeting my guests with the smell of freshly baked cake! If you do design to make the Victoria sponge ahead of time, just cool it completely and then cover it in plastic wrap. You can make it up to 4 days ahead!
It was a delicious feast and after the meal we each found a spot to lounge and nap — my definition of a great afternoon!
Print
Pressure Cooker Short-ribs
This recipe is adapted from the New York Times and is one of my absolute favorite and easiest ways to cook short ribs. The prunes add an amazing tang and shouldn't be skipped!
2

teaspoons kosher salt, more as needed

1

teaspoon coriander powder

1

teaspoon ground black pepper

3

to

4

pounds bone-in beef short ribs

1

tablespoon olive oil or other fat (like bacon fat or duck fat), more as needed

3

leeks, whites only, chopped

2

large fennel bulbs, diced

4

garlic cloves, minced

1/2

 

tablespoon chipotle chile powder

1/2 tablespoon

smoky paprika

1

tablespoon tomato paste

1

cup beef broth

½

cup pitted prunes, diced

Fennel fronds or sliced scallions, or both, for serving
Instructions
If time permits, rub salt, coriander, and pepper all over the beef and let marinate in the refrigerator for 1 hour, or, ideally, overnight.
Set electric pressure cooker to sauté function and add oil (or use a large skillet on the stove over medium-high heat). Sear beef until evenly browned on all sides, about 2 minutes per side. You'll probably have to do this in batches. Transfer to a plate as the pieces brown. Or if using a skillet, transfer them to pressure cooker.
Add leeks, fennel, and pinch of salt to the hot pan and cook until soft, about 8 minutes, then add garlic, chili powder and tomato paste; cook until fragrant, 1 to 2 minutes. Pour in beef broth. Add prunes and beef (or add prunes and fennel mixture to the meat in the pot).
Cover, then cook for 35 minutes on high pressure. Manually release pressure. If the sauce seems thin, pull out beef pieces and reduce sauce using sauté function. Serve with fennel fronds or scallions, or both, for garnish.