It's time to get ready for the summer entertaining season and having an inventory of great recipes for a crowd that are easy and quick to make is a good strategy! Enter this tasty barbacoa recipe, which comes together in less than an hour thanks to the Instant Pot and is the basis for a great meal — and party.
What makes this barbacoa is the smokey chipotle sauce that is used to cook the meat. It's so flavorful and imparts a great smoky flavor to the meat. Added plus — it's really easy to throw together. Combine all of the ingredients in a food processor, give the food processor a spin and there you have it! Sauce done.
The other key for barbacoa is the Instant Pot, which turns a humble piece of chuck roast into a tender, flavorful stew in less than an hour. I know this is heretical for a food blog to say but give me a pressure cooker over a slow cooker any day. Pressure cookers obviously speed up cooking time significantly without diluting the flavor of food. If anything, pressure cookers, like the Instant Pot, help intensify flavors and give you a much richer, end result.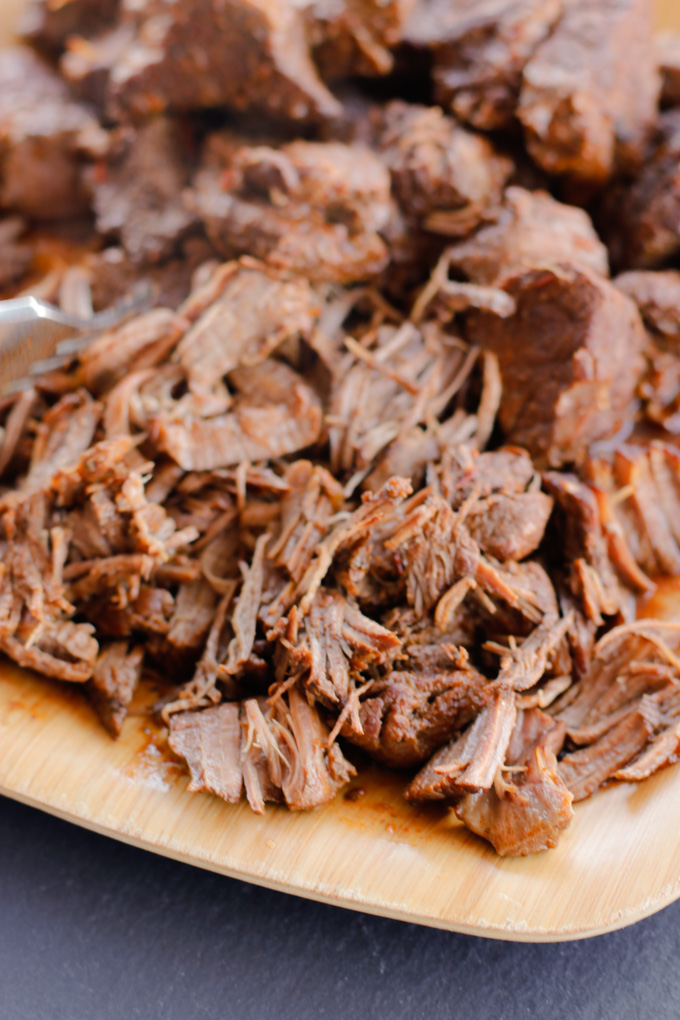 I served the barbacoa as part of a taco spread. The barbacoa is so flavorful that I kept the fixings pretty simple. Sour cream, avocados, cilantro, limes and good tortillas completed the spread. I also provided lettuce leaves for those wanted to skip the tortillas.
Make this barbacoa for your next summer gathering and I promise it will be a hit.
Print
Instant Pot Barbacoa Tacos
6

to

8

pounds boneless chuck roast, trimmed of excess fat and cut into

2

inch cubes

1 tablespoon

 avocado oil

6

chipotles in adobo with sauce

1

large onion, peeled and roughly chopped

3

cloves garlic, peeled and roughly chopped

1 cup

beef broth

⅔ cup

apple cider vinegar

½ cup

lime juice

2 tablespoons

cumin

2 tablespoons

dried oregano

1 tablespoon

chili powder

1 tablespoon

sea salt

½ teaspoon

ground cloves
Instructions
In a large blender, add adobo, onion, garlic, vinegar, lime juice, cumin, oreganoo, chili powder, salt, and cloves.
Blend until smooth.
Set aside.
In an instant pot, heat oil on high saute, and brown meat in small batches.
When meat is browned, add sauce from blender.
Add stock, set valve to seal, and cook on high pressure for 50 minutes.
Force release and shred.