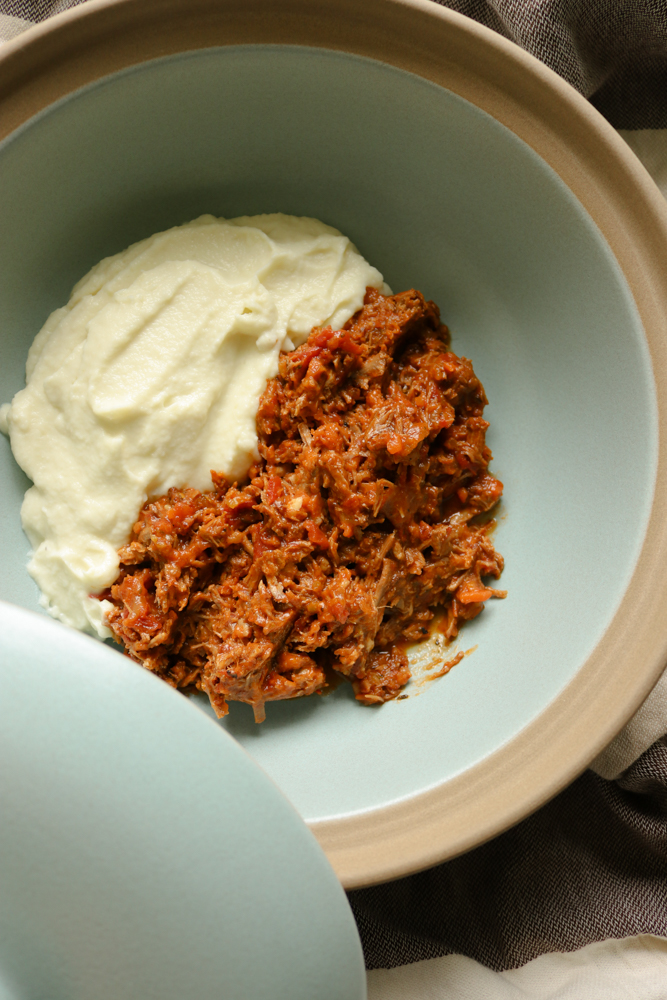 We love entertaining at home on rainy, cool nights. There's nothing better than a warming and comforting meal to get everyone ready for a great night in and in the mood of hygge, the spirit of Danish-inspired coziness. We've been having what we consider a cold snap out here in Northern California and so had the perfect excuse for a cosy dinner in. A few phone calls later and we had a dinner party in the works with our good friends David and Kyra.
We find nothing more comforting than a rich ragu so we decided to make a goat ragu with a creamy cauliflower puree for our cosy meal. Goat ragu? You may be asking. Well we really think goat meat is  underrated and totally under appreciated. Goat is as sublime, more tender and less gamey than lamb when done right. This ragu is a revelation and is so tasty. Now if you're not feeling the goat, feel free to substitute beef short ribs. We've combined two recipes to come up with our favorite so far. We took our inspiration from a Food52 and New York Times recipes to get the flavor profile we were after.
We are lucky to have access to the Sonoma County Meat Company (SMC), a  traditional butcher shop that specializes in local meats and this is where we get the best goat in the Bay Area. If you live in Northern California there are multiple outlets that stock SMC's meats. You can also join their CSA or order through Good Eggs.
For the meal's finale we decided on the Orange Polenta Cake from Ottolenghi, the Cookbook. You can read all about the dessert here.
The Plan:
Now we had to make this get-together happen. For us, throwing a hassle-free fete means planning and making as much ahead as possible. We always look at the meal we're planning and break it down in steps over a few days – which makes it way more manageable. Here's the schedule we followed for our cosy night in.
The dinner was a success and the food so good. I would highly recommend this menu.
Print
Goat Ragu with Cauliflower Mash
This is the perfect stick to your ribs meal. We kept things on the lighter side by serving the ragu with a cauliflower mash.
The goat ragu is best made a day ahead, which makes it the perfect dish for entertaining.
Author:
Prep Time:

30 minutes

Cook Time:

2 hours

Total Time:

2 hours 30 minutes

Yield:

6

1

x
Category:

Mains
For the goat ragu:
1 ounce

dried porcini mushrooms

5

to

6

pounds goat meat (what cuts did we use?) – Pasture Raised Goat Shoulder

Kosher salt and freshly ground black pepper

1 tablespoon

duck fat or vegetable oil

1

large onion, chopped

2

medium carrots, peeled and chopped

2

celery stalks, chopped

2

large garlic cloves, finely chopped

2 tablespoons

tomato paste

1 tablespoon

anchovy paste

¼

C sherry vinegar

300

ml chicken broth

1

(14-ounce) can fire-roasted tomatoes, with their juices

1 tablespoon

Dijon mustard

3

to

4

dashes Worcestershire sauce

1 teaspoon

dried thyme

1 teaspoon

dried oregano

1

large rosemary sprig, leaves removed and chopped

Red pepper flakes

2

bay leaves

4

to

5

cups chicken stock, low-sodium broth, or water
For the Cauliflower Mash
1

medium head of cauliflower

3.5 oz

of Water

3 oz

Butter

Salt to taste
Instructions
For the Ragu: Make at least a day ahead.
Soak the dried mushrooms in 2 cups boiling water for at least 20 minutes or until soft.

Then give the goat a good seasoning with salt and pepper.

Heat the oil in a large ovenproof heavy pot (we used our

Le Creuset Dutch Oven

) over medium heat until shimmering.

Brown the goat in batches for 2 to 3 minutes per side; set aside.

Pour out all but 1 tablespoon of the fat from the pot

Sauté the onion, carrots, and celery until soft.

Add the garlic and stir until aromatic.

Create a hot spot in the pot by moving the vegetables aside.

Add the tomato paste and anchovy paste to the hot spot and stir vigorously so it doesn't scorch until caramelized, then stir the tomato paste mixture into the vegetables.

Add the vinegar and cook until the liquid is reduced by half – which will happen quickly.

Add the tomatoes, mustard, and Worcestershire sauce.

Lift the mushrooms from the soaking liquid and add to the pot. Then carefully add most of the soaking liquid, making sure to avoid the sediment at the bottom.

Add the herbs.

Add the goat back to the pot, then add enough chicken stock so the goat is nearly covered.

Bring to a boil, then reduce heat to medium-low. Simmer uncovered until most of the liquid evaporates, about an 1 ½ hours, scraping down sides of pot as necessary to avoid burning. Meat will turn dark brown and liquid dark orange.

Remove the meat from the liquid and set aside until cool enough to handle.

Then, remove the bay leaves from the braising liquid and discard.

Put the pot over medium-low heat to reduce if the sauce is too runny.

When the goat has cooled, remove the bones and any large pieces of fat. Shred the meat and return it to the pot.

Let cool to room temperature, skimming any large pools of fat from the surface, and refrigerate overnight.
For the Cauliflower Mash:
Roughly chop cauliflower into thin slices.

Place the cauliflower, water, butter and salt in a saucepan and cover with a lid

Begin heating on high to start steaming quickly, then reduce heat to medium and continue steaming until cauliflower is tender and there is little water left in the pot.

Keep an eye out on your cauliflower so it doesn't scorch

Once cauliflower is softened, transfer to a blend and blend  semi smooth – I don't mind it a little rustic!