When we're feeding a hungry crew on the weekends we like to pull together a fun and colorful table using Fiesta, and that's what we did for our Tex-Mex Shakshuka brunch. Fiesta has become an iconic American brand that has really stood the test of time. It feels nostalgic but still looks modern. The vibrant colors combined with its simple and timeless design makes Fiesta a great and reasonable addition to any cupboard.
In our household there's also a sentimental attachment. The hubby's aunts' accumulated Fiesta throughout his childhood and when he bought his first house, he started his own collection. The hubby gave his aunts' his Fiesta when he came to California, but now we're slowly rebuilding a small set.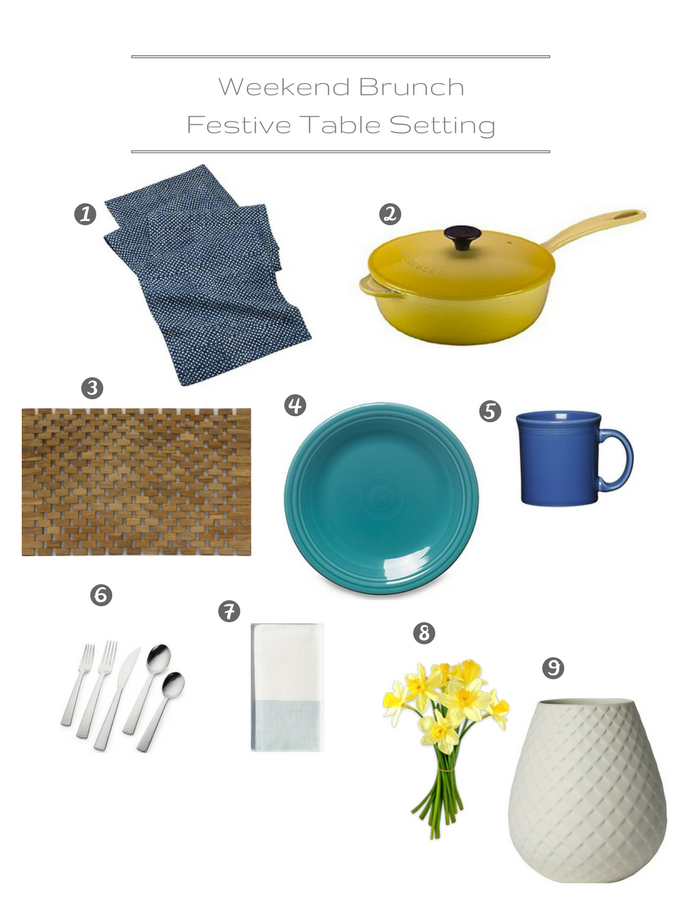 1./ CB2 Indigo block print runner 2./ Le Creuset Saucier in Soleil 3./ Teak Placemats 4./ Fiesta Dinner Plate  5./ Fiestaware Lapis Mug 6./ Mesa Flatware 7./ Linen Napkin 8./ Your local florist or garden! 9./ CB2 Mamba Vase
For our weekend brunch we combined the Fiesta dinner plate in turquoise and mug in lapis with a simple wood placement, to bring in a natural element and played up all the blues by adding a dark blue runner. Thanks to the torrential rains we've been having, daffodils are out in full force, so we injected some yellow with fresh daffodils and served the main brunch coarse, the shakshuka, in the Le Creuset saucier in Soleil — or sun, which is what we're desperately missing out in California.